My basement renovation is underway, and I have been thinking about the features I want to add to the finished space. I have been bouncing around the idea of adding a kitchen to my basement.
The question is, can I add a kitchen to my basement? It is a question that needs an answer before I continue planning my home project.
Why Should I Check To See If Kitchens Are Allowed In Basements?
I had a friend ask why I need to check to see if I am allowed to add a kitchen to my basement. After all, I should be able to add what I want to my house, especially if I am shelling out the money on the renovations.
However, I have to respectfully disagree about adding whatever I want to my house. There are certain rules and regulations in place to keep homeowners and the neighborhood safe and comfortable. I could get in a lot of trouble if I break a safety code to add a kitchen to my basement.
It is also important to keep the cost of adding a kitchen to the basement in mind. The last thing I want to do is plan out this project only to find out I cannot afford it.
This is why I am researching the topic of adding a kitchen to my basement before settling on a project.
Are Kitchens Allowed In Basements?
Is it okay to add a kitchen to a basement?
I have found that there is not really a straight answer to this question. Whether or not I can add a kitchen to my basement actually depends on multiple factors.
Safety and regulation codes are the most common reasons that it may not be safe to add a kitchen to a basement. A basement needs to have enough space to hold a full kitchen and the appliances that come with it.
I also need to inspect my basement to ensure there are not any water leaks that could lead to damage or injuries.
My advice is to check the safety and regulation codes of your area before making plans to add a kitchen to your basement.
As I continue to research this topic, I am having second thoughts on adding a kitchen to my basement. The potential safety risk of a full kitchen in my basement is not worth the reward.
In addition, my family and guests may not be able to make the most of this kitchen space.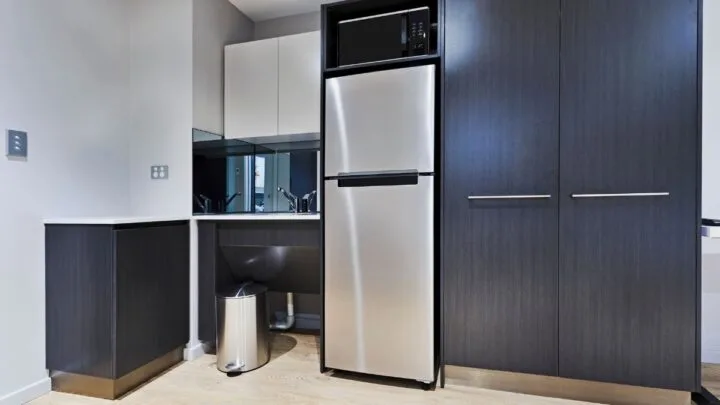 Ideas For Adding A Kitchenette To The Basement
Many homeowners are adding a kitchenette to their finished basement, and I think a kitchenette sounds like a great idea for my basement!
A kitchenette includes the basics of a kitchen, such as a refrigerator, stove, microwave, counter, and sink. It is smaller than a full kitchen, so I do not have to stress over making this feature fit inside my basement.
If you are thinking of adding a kitchenette to your basement, I want to share several basement kitchenette ideas that have caught my eye.
1. Cozy Nook
There is a good chance your basement has a cozy nook, which is perfect for a kitchenette. I would stick to a mini-refrigerator and microwave for such a small space, and those appliances would securely fit in a cabinet area under my counter.
If I cannot install a sink in or close to the nook, I might use this space as a makeshift kitchen for alone time or small gatherings.
2. Wider Nook
Some basements have wider nooks because of a recessed wall, so you can always use this space as your kitchenette.
If I have enough space, a kitchenette in a wider nook would include a sink with an oven and storage under the counter. Above the counter would be a microwave and cabinets. I think this would be a great design for a basement lounge.
3. Alongside The Wall
In a larger basement, the kitchenette could be placed alongside the wall rather than in a nook. It may include a microwave, mini-refrigerator, counter space, cabinets, and drawers.
If this were my basement, I would utilize the extra space with a small table and chairs several feet from the kitchenette for comfortable dining.
4. L-Shaped Design
The open design of an L-shaped kitchenette in a basement always catches my eye. I can imagine preparing a snack on my counter or cooking a quick meal in the microwave, which is secured under the counter.
It would also have a mini-refrigerator and ample storage space, so I do not have to run upstairs for a certain item or ingredient.
5. In The Corner
I have also found corner kitchenettes without an L-shaped design to be a great idea!
The counter, mini-refrigerator, and open shelves are on one wall, and a large refrigerator with a freezer is on the other wall of the corner.
If you are planning to cook full meals rather than quick meals and snacks, I would recommend this design for your kitchenette because it leaves more space for a full-sized refrigerator.
The more I research this home renovation project, the more I would rather add a kitchenette to my finished basement. I feel it is an easier and safer solution than a full-sized kitchen, especially if I already have a full-sized kitchen ​on the first floor.
A Makeshift Kitchen Can Also Work In A Basement
I have also thought of skipping the kitchen or kitchenette altogether. Instead, I can use certain appliances and pieces of furniture to add a makeshift kitchen to my basement!
A makeshift kitchen has limited features, such as a microwave on a table, a mini-refrigerator, and a rolling cart for dinnerware.
Of course, I need to add a sink unless I want to run upstairs or use the basement bathroom every time I need to wash a dish or utensil. It is not worth the hassle when I can just add a kitchenette to my basement.
A makeshift kitchen is a great idea if you need a temporary kitchen during a renovation. Then again, you may prefer a makeshift kitchen as a permanent feature in your basement.
As for me, I think I am going to stick with a kitchenette for my basement.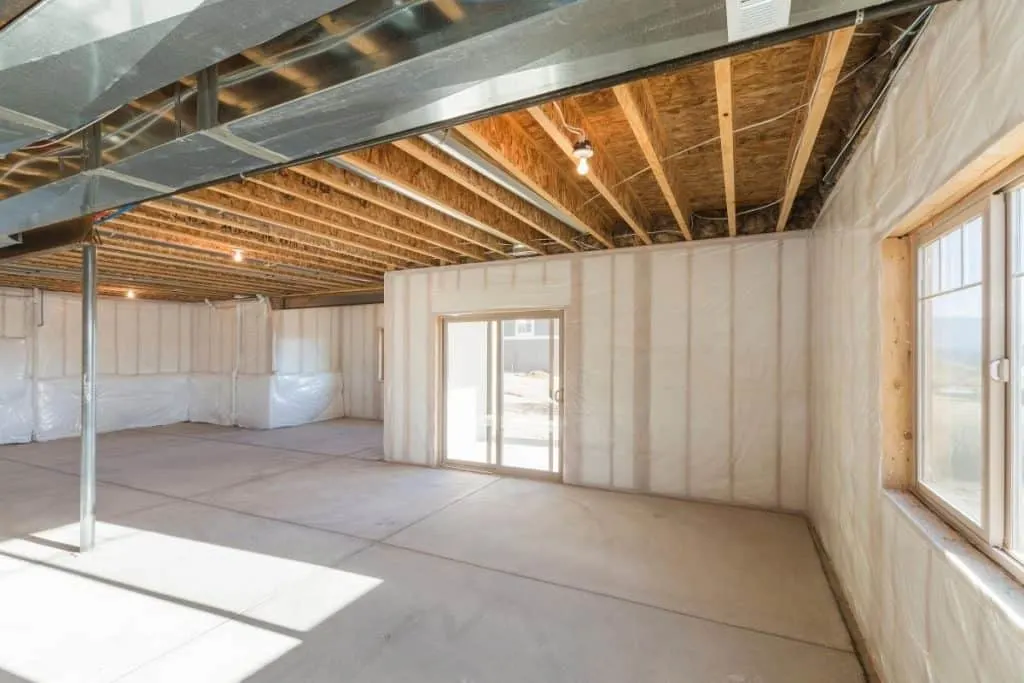 Benefits of Adding A Kitchenette To The Basement
If you are like many homeowners, you may not see the point of adding a kitchenette to your basement. You have a full kitchen upstairs, so you may not feel the need to add an extra kitchen to your home.
However, I have found several benefits of adding a kitchenette to the basement!
1. Makes Entertaining A Breeze
You may be turning your finished basement into a family room, lounge, or game room.
A kitchenette makes it easier to entertain because you do not have to run upstairs to prepare a meal or beverage for your guests.
2. Perfect For Larger Meals
If you are hosting a large gathering for a special occasion, you can save time by using both the kitchen and basement kitchenette.
Family and friends can help with the cooking without getting in the way or waiting for an appliance.
3. Increases The Property Value
There are many other homeowners who would love a kitchenette in their finished basement.
Your kitchenette is sure to increase the property value if you decide to put your home on the market!
Kitchenettes Work Better Than Kitchens
Are basements allowed in kitchens?
The answer depends on your basement and location because it needs to meet certain safety codes. If you are looking to add a useful feature to your finished basement, I feel it is best to choose a kitchenette design instead of a full kitchen.
Related Posts