Air fryers are an incredible innovation that helps not only minimize the consumption of oil but also helps prepare food faster. But one thing to keep in mind is that they are all powered by electricity. But just how much electricity do they consume?
The brief answer is the wattage required by an air fryer fluctuates according to its size. A moderate air fryer requires about 1,200 to 1,400 watts, whereas a large air fryer needs about 1,600 to 1,800 watts.
However, there is more to it. So let's walk through the details so that you can have a better understanding of this topic.
How Many Watts Does an Air Fryer Consume?
Air fryers are available in a variety of sizes, from 1-quart fryers to those with a load of more than 8 quarts. Naturally, the power needs of these devices change depending on their size. Air fryers as low as 800-1000 watts are available. Larger units can need up to 1800 watts of power.
It's important to pick the perfect air fryer for your cooking needs and kitchen outlet availability.
If you are only cooking for yourself, then you can go for the cheap options. However, it is better that you opt for a higher quality larger air fryer if you are cooking for a number of people.
Lower Wattage Air Fryers
These are the tiniest air fryers available, with wattages ranging from 800 to 1000 watts.
These compact appliances are ideal for single people or for taking it for travelling in an RV.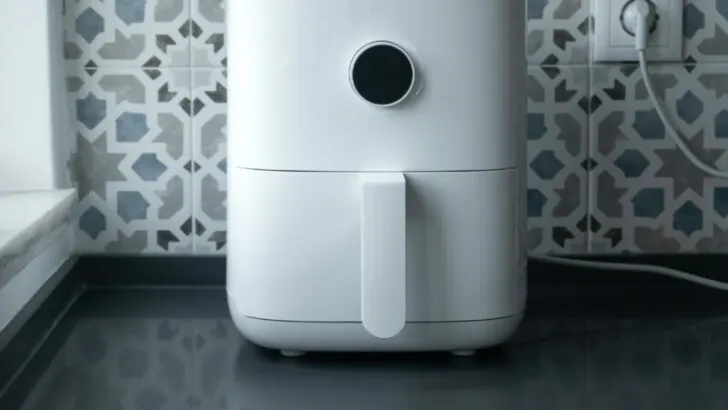 Typically, an 800-watt air fryer has a 1.2-quart capability. Some air fryers with 1000 watts and up to 2 quarts of storage are available. Here is our analysis of the top 800-1000 watt mini air fryers.
Medium Wattage Air Fryers
Medium-sized air fryers are among the most prominent here on the marketplace. The majority of air fryers on the market have a capacity between 2 and 4 quarts.
The capacity of a 1200 watt air fryer varies from 2 to 3 quarts. You can anticipate a wide range of options in this approach.
4-quart air fryers that need up to 1600 watts are standard. These fryers feature a good power-to-capacity ratio, making them very effective and quick to heat up.
These mid-sized air fryers are unquestionably intended for home usage and might not be suitable for use when travelling. They are not just bigger, but the power needs sometimes go beyond what an RV can provide.
High Wattage Air Fryers
Air fryers with higher wattages can produce power up to 1800 watts. These include fryers with greater basket capacities and more toaster oven-like designs.
These high-quality air fryers are ideal for large families or for frying larger dishes like whole turkeys.
A basket-style air fryer with one of the greatest capacities on the market holds almost 6 quarts and uses 1700 watts of power.
The largest capacity and most powerful air fryer ovens are available, with a 32-quart capacity. Their power consumption is 1800 watts. However, these air fryers can be a bit more expensive.
What Is the Air Fryer's Amp Usage?
The amps used by air fryers vary from 6.67 amps to as much as 15 amps on a 120-volt circuit and also from 3.33 amps to 7.5 amps on a 240-volt course. However, guessing the voltage remains the same, air fryers with a larger capacity typically have a high ampere consumption.
When setting up the electrical connection in your house, you must consider the device's amperage demand. It will assist you in choosing the right cable size and type as well as the right circuit size.
Additionally, based on the power of your appliance, air fryers typically demand between 6-15 amps. That implies that the small ones have reduced amp demands.
Tips for Keeping Your Electricity Bill Low
Now that we have discussed the details about the watts and amp usage, here are a few tips to further help you lower your monthly electricity bill.
Identify your size requirements and make purchases accordingly. Two persons can comfortably fit in the regular size. Buy a large-sized air fryer if your household is larger. Batch cooking in a regular air fryer will increase your bill.
If you just infrequently cook in volume, you might want to think about an air fryer with two-compartment options.
When it's not in use, switch off your air fryer. Keeping it on hold for an extended period will increase your charge.
Eat your meal as soon as it is finished cooking. The keep warm feature will cost electricity to use.
Think about getting one of the adjustable-wattage air fryers available on the market. In this manner, you can change the wattage to meet your meal needs.
Remove any clogs and keep the holes clean to prevent the appliance from working harder and using more energy when preparing your food.
Final Words on How Much Electricity an Air Fryer Uses
An air fryer is an appliance that has made everyday work easier and is available in many sizes to accommodate your power needs. The electricity consumption is different based on the sizes and you can find the one that fulfils your demands. But keep in mind the tips we have discussed above for a smooth ride.