There's no doubting the importance of curtain panels when it comes to ensuring privacy and security.
However, there is one thing that you do need to keep in mind when installing curtain panels, and that is their width.
A typical curtain panel should have a recommended width of almost double or 2 ½ times the width of your actual window.
This can differ, though, according to your usage. If you don't need to shut them and are only installing them to wrap the window, you needn't keep them thicker, just a 1- 1 ½ time bigger width would suffice.
If the case is of using pleated panels, then you may need to keep the width the same as the span, because they have a thickness of their own.
Aside from their practical benefits, they also complete the look of your house and also give it character.
Want to know more about curtain panels? Then keep on reading!
What Are Curtain Panels?
You've learned the recommended width of a curtain panel but do you know what it is? Not to worry if you don't, because we're here to break it down for you.
Simply put, curtain panels are a more permanent version of curtains. They're frames covering the windows that with the help of stationary panels.
What Is The Difference Between Curtains And Curtain Panels?
It might come off as a surprise but curtains and curtain panels are not the same thing at all!
Curtains are held on rods and cannot be moved freely. They can be tied back though, and they're intended to block medium light.
Curtains are fabric panels which are usually sold in pairs. Curtain panels, on the other hand, are more like decorative coverings that give a fresh look to the entire room.
They're meant to stay put and can be used to cover blinds, shutters, or shades in the window.
What Are The Standard Sizes Of Curtain Panels?
Picking the right size of curtain panels is extremely important because every wall and window differs in size and measurements.
The most commonly used sizes are 63, 84, 95, 108, 120 inches long, and then 48 inches wide.
Other types, such as tier curtains that are meant for smaller windows, are usually available in 24 and 36 inches lengths, with a width of 45 inches.
How To Measure And Determine the Number of Curtain Panels
After choosing the style of the curtains, calculating the measurements and numbers of panels is pretty straightforward. Here's how:
Calculating the measurements:
Measure your window and add 1 to 3 inches to it, depending on the amount of overhang you want on each side.

Multiply the length obtained by 1.5 if you want a minimally filled look, 2 if you want medium fullness, and 2.5 if you want it to be extra full.

Choose a width for the panels and divide the total inches by that value.
For calculating the number of curtain panels, the number of panels depends solely upon the width you've selected for your panel and how full you want it to look.
For a 28-inch wide panel and 36-inch curtain rod, you can choose either 2, 3, or 4 panels depending on your desired fullness.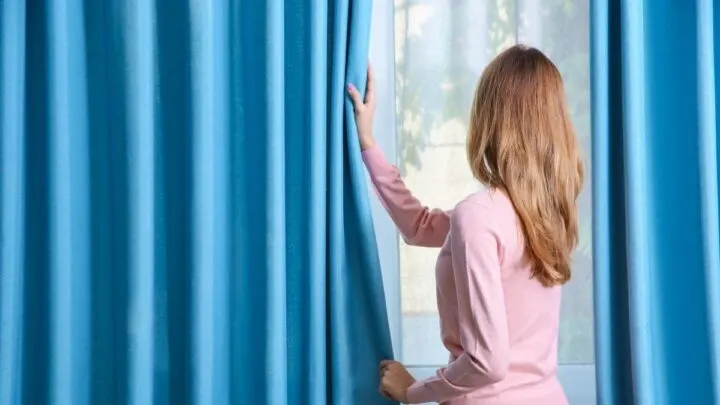 What Are the Different Styles of Curtain Panels Available?
Amongst the many options available, two styles stand out. They consist of rod-pockets with single or double options, which are supposed to slide onto the rod. They can be similarly hung from a rod, but end up with gaps between tabs.
Rod-pocket styles cover the entire rod in a way that you don't have much room for aesthetics. However, these can be embellished with fancy rods.
If you want to explore more styles, you can look into large gussets or holes that slide onto the rod, leaving quite some part of the rod naked. These styles also enable you to use decorative rods.
Final Words for How Wide Curtain Panels Should Be
We all want curtain panels to enhance the look of our house, but we often overlook what it requires to look perfect.
The first and foremost thing to take care of automatically becomes its width.
If you don't consider an appropriate width for your panels, chances are that your curtain panels won't be as pleasing as you want them to be.
This article takes you through all the tips and techniques required to give your home the push it needs.
For a well-balanced interior finish, make sure you invest in the process so that you achieve maximum results!